The active social app for happier people.
Discover Local Events & Connect with Fun People
A social app based on science of well-being that its main priority is to make you a happier person by pushing you to do more activities in real world instead of wasting time online.
Based on
Science of Well-Being
Unlike mindless passive scrolling on other social apps, Happiem engages you in an active way so you could actually go to the places you liked. By liking a post, that place will be added to your profile immediately and you can share it with friends and family so they can join you in that beautiful experience as well.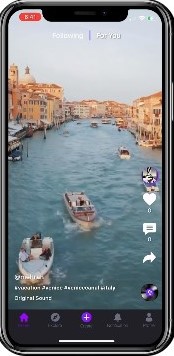 Fun + purpose = Happiness
Fun by itself, is just fun, but Happiem methodology that is derived from positive psychology, gives it a purpose and convert it to a meaningful happiness that lasts longer.

Do you want the same trend of the right side to keep going, or you want to change it forever?
Happiem is a service by an American company and has American's best interest at heart.
Mehran Java
Founder & CEO
Mehran is a problem-solver engineer who has been monitoring the negative impacts of social media apps since 2017 and consistently looking for an ultimate solution. He studied science of well-being to have that as the starting point and help him create the methodology of Happiem.